About Vista® Window Film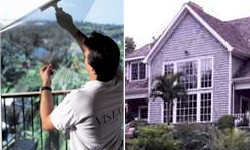 VISTA® Window Film promises a home where lasting beauty resides.
Glass is a prominent feature in today's homes. The more windows and glass doors you have, the more you need VISTA window film.
Helps reduce sun damage to your interior.
VISTA helps preserve the color brilliance of fabric drapes and upholstery, furniture, works of art, rugs and wood floors. Ultra-violet radiation is the major contributor to the fading of your precious interiors. Our films block 99.9% of the these harmful rays while maintaining the integrity of the windows.
Year round Comfort.
VISTA window film conserves energy by reflecting the hot sun in the summer, and with Low E, re-radiating heat that would normally escape in winter, saving you money on your energy bills. VISTA is also effective in cutting glare and reflection so you're more comfortable.

The professional's choice.
VISTA casts its neutral hues throughout your home, creating the perfect ambiance when decorating or remodeling. Available in soft designer shades and neutral hues, architects and interior designers recommend VISTA to their customers.

Should you consider VISTA window film for your home?
You need VISTA if:
You want to protect your furnishings and draperies from premature fading.
Before you can watch television comfortably, you have to close your drapes, blinds or shutters.
During the daylight hours, your favorite room is plagued by harsh glare and heat.
You experience cold and hot spots throughout your home due to uneven heat distribution.